Salmon ❤ lemon!
Today I have one more recipe for when life gives you lemons. Lemon on salmon is a classic combination. But it's usually just a little squeeze of juice. This time, we will use the whole lemon to make Salmon with Whole Lemon Dressing.
Sula ❤ salmon!
I've mentioned before that I get my salmon directly from Alaska, courtesy of Sitka Salmon Shares. I love receiving those boxes of frozen vacuum-packed fillets and I'm always looking for new ways to use them. So I was happy to find a recipe from NYT Cooking which I lightly adapted for this version.
Whole lemon dressing
Most recipes use lemons by either fresh squeezing the juice and/or using a zester to get some of the bright yellow skin. This recipe is unique for using the whole lemon. That includes the pith (the white part of the peel), which can leave the dressing a little bitter. If you're sensitive to bitter tastes, this recipe might work better using just the zest and juice.
How to make the whole lemon dressing
Finely chop one medium to large lemon, removing seeds as you go. Place in a bowl with some chopped garlic, oregano and white wine vinegar. Season with a little salt and pepper, then add olive oil.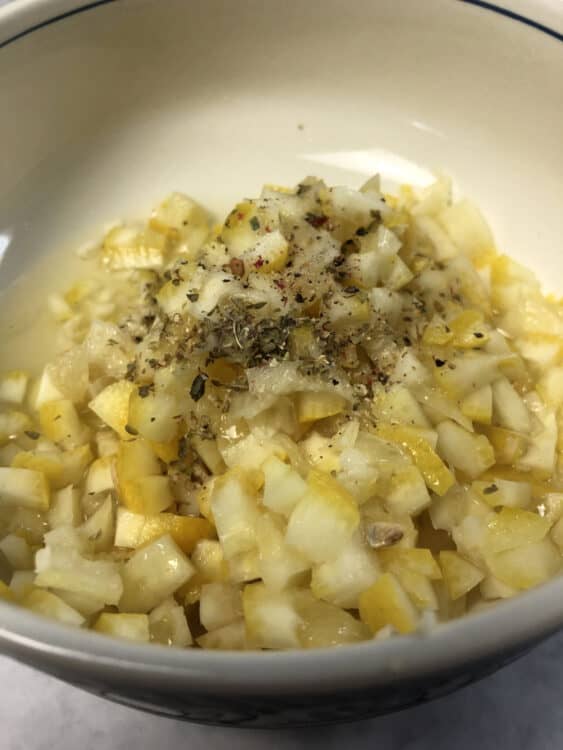 Set this dressing aside until you're ready to use it.
Cooking the salmon
The recipe calls for a 1½ pound skin-on fillet, which is perfect for entertaining. Since I get my salmon in smaller pieces, I used two King salmon fillets of about the same total weight.
Season the salmon on both sides with salt and pepper. Place skin-side down in a baking dish.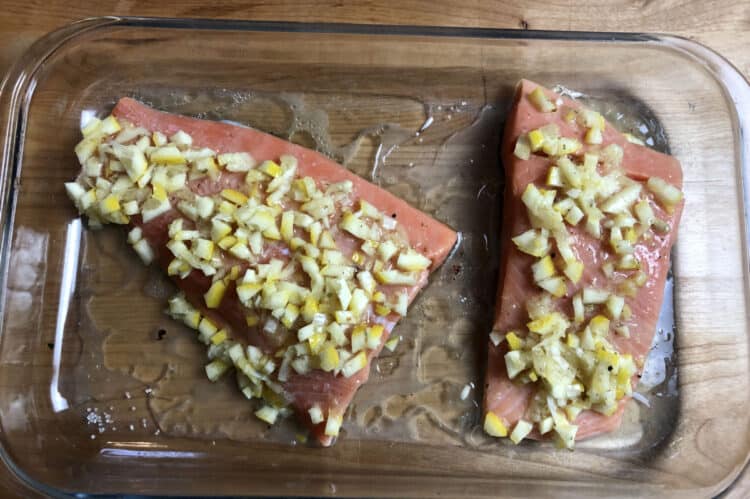 Spoon half the lemon dressing over the salmon. Place in oven to cook.
Estimated cooking time is 15-20 minutes. Note: Salmon fillets can vary in thickness, affecting the cooking time. So, in the words of Arthur Miller "Attention must be paid!"
Long ago I invested in a meat thermometer. Great investment! I cook to 145F, the recommended temperature for salmon. At 20 minutes the temperature of my fillets was 135F, so the fillets needed a little more time, only a few minutes.
Additional whole lemon dressing for serving
Since only half the dressing is used in cooking, the rest can be used after cooking. I will tell you, I've made this a couple times now and have not felt the need for additional lemon after cooking.
The sauce is very tangy and provides a ton of lemon flavor.
Even The Carnivore, who tends to soak his salmon in lemon, has not asked for more dressing. In the future, I will probably put all the dressing on the salmon or cut back on the overall quantity. (I already reduced it some; the original recipe calls for 2 lemons.)
If you're entertaining and want to make a more impressive presentation, use a whole fillet and once cooked, place it in large pieces on a platter covered with lettuce. The remaining dressing is then spooned over the salmon and lettuce.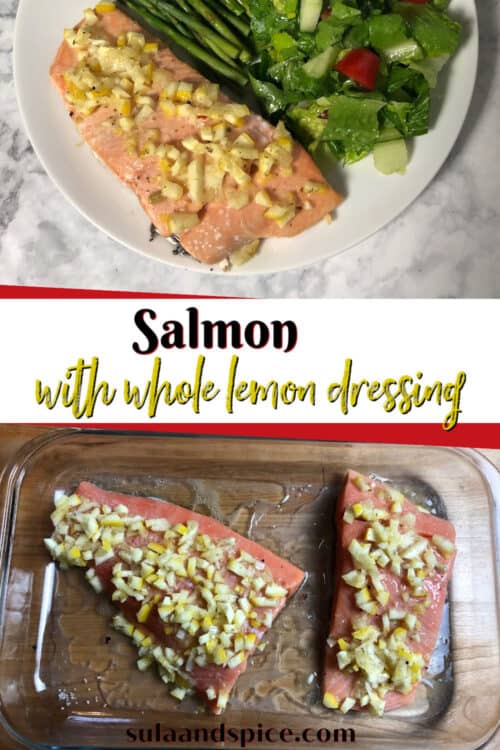 Give this a try! Salmon with Whole Lemon Dressing gives you flavor-infused salmon!
Salmon with Whole Lemon Dressing
Infuse your salmon with intense lemon flavor!
Ingredients
1

medium lemon

seeds removed, entire fruit, including rind, finely chopped

1

garlic clove

chopped fine

¼

teaspoon

dried oregano

2

TB

white wine vinegar

Salt and pepper to taste

¼

cup

olive oil

1 ½

pound

salmon fillet
Instructions
Heat oven to 325F. In a small bowl, combine chopped lemon, garlic, oregano and vinegar. Season with salt and pepper, then add olive oil. Mix and set aside.

Season salmon on both sides with salt and pepper. Place skin side down in a 9 x 13 (or similar) baking dish. Spoon half the lemon dressing over the salmon.

Place salmon in oven until just cooked through, approximately 15-20 minutes depending upon the thickness of the salmon. If using a meat thermometer, cook to 145F.
Notes
I usually serve this with a green vegetable and a simple salad.

For an impressive presentation, use a whole skin-on salmon fillet. Spread lettuce pieces on a serving platter and place the cooked fillet in large pieces on top of the lettuce. Spoon the remaining lemon dressing over the salmon and lettuce.
Nutrition
Calories:
372
kcal
|
Carbohydrates:
3
g
|
Protein:
34
g
|
Fat:
24
g
|
Saturated Fat:
4
g
|
Cholesterol:
94
mg
|
Sodium:
76
mg
|
Potassium:
871
mg
|
Fiber:
1
g
|
Sugar:
1
g
|
Vitamin A:
68
IU
|
Vitamin C:
15
mg
|
Calcium:
27
mg
|
Iron:
2
mg
Nutrition values are estimates only, using online calculators. Please verify using your own data.
More salmon ideas
If you liked this Salmon with Whole Lemon Dressing, you might also enjoy Salmon Dip or Keto Salmon Patties. Both make great use of any leftovers from this recipe. 😀
Another great option is Baked Pineapple Salmon - its unique sweet and savory sauce will delight your taste buds!
And feel free to try a little tartar sauce with that salmon. It's not typical but you might be surprised at how tasty it is!