Ah strawberry season! There's something so special about these beautiful berries filled with sweet juicy goodness. So many berries! So many possibilities!
Readers of my blog know that I grew up on a family farm. We grew lots of vegetables, but also strawberries. When you grow strawberries you need some easy desserts to take advantage of the bountiful crop.
Another bountiful farm ingredient? Whipping cream, courtesy of Betsy, the cow. For my family, finding both of these food wonders in one dessert was considered a win.
This recipe has origins in my mom's recipe box, but I adapted it with inspiration found on allrecipes.com.  Like most of my mom's summertime desserts, this one is made in a 9 x 13 pan. Convenient for serving crowds in the hot summer months.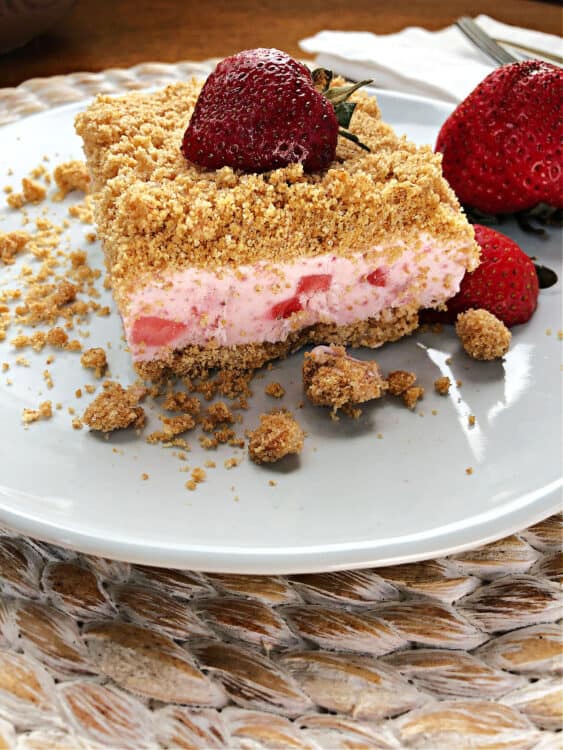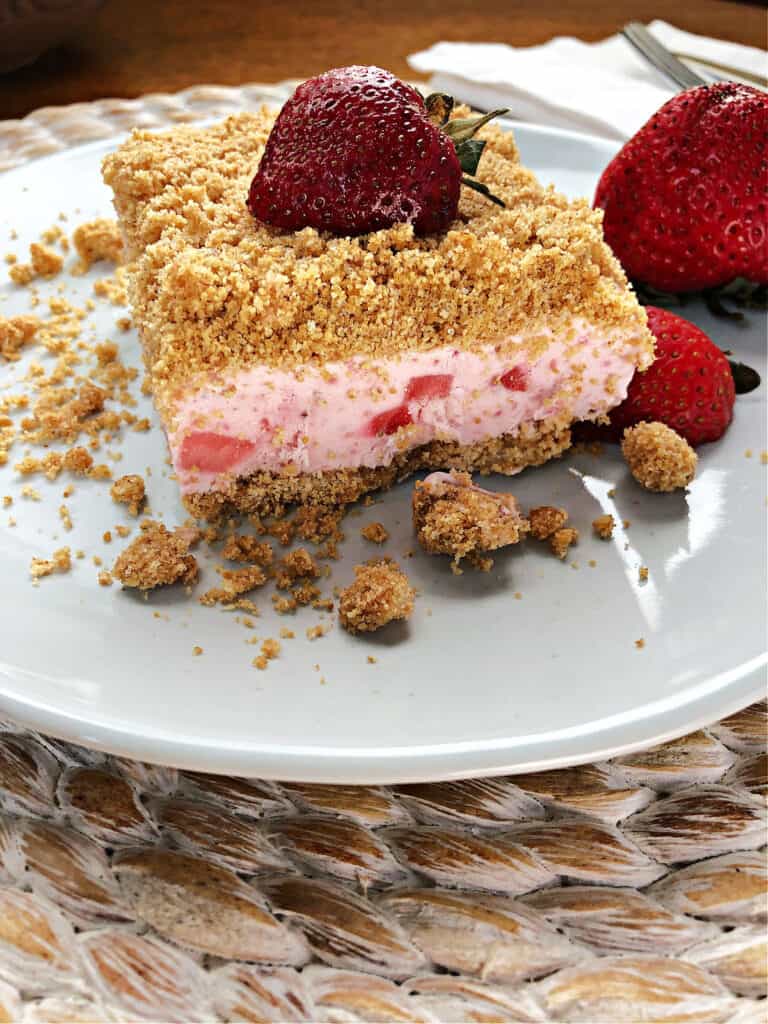 Note: This recipe requires overnight freezing.
How to make this Frozen Strawberry Dessert
For this no-bake dessert, start with a graham cracker crust. Make enough for a double crust; half will be saved to crumble over the top. Start with 2 sleeves of graham crackers. The crushed crackers are mixed with melted butter and sugar, the usual routine for a graham cracker crust.
Note: I have found that counting crackers (Is that a rock group?) can be deceiving. Some brands make graham crackers larger than others, and some thicker. One consistency is that all brands sell boxes 14.4 oz in weight, with 3 sleeves of crackers inside. Each sleeve contains anywhere from 8 to 11 crackers. Keep this in mind for all of your graham cracker recipes.
The recipe calls for a quart of berries. Which equates to 32 ounces in a grocery store. First, you chop up enough berries to make one cup of pieces. The rest get mashed. The old-fashioned way was to use a potato masher. These days, we can use a blender or food processor to make a nice puree. 😀
The filling is made of cream cheese, sweetened condensed milk, whipped cream and mashed berries. Then the chopped berries are added. Yum.
Spread the filling over the graham cracker crust and smooth out. Add the remaining crumb mixture in an even layer over the top. Cover and freeze overnight. When ready to serve, remove from freezer and allow to sit at room temperature at least 20 minutes before trying to cut.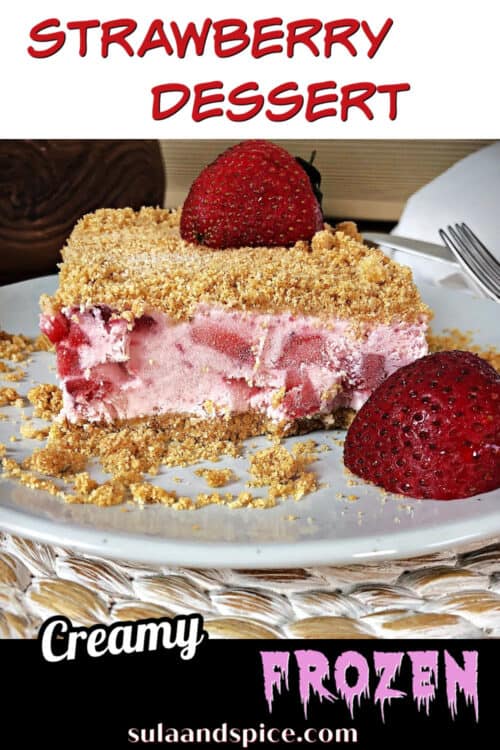 Enjoy a piece of creamy strawberry goodness with crunchy graham cracker crust and topping!
Frozen Strawberry Dessert
Fresh strawberries in a rich and creamy frozen treat!
Ingredients
2

sleeves of graham crackers

about 16-22, depending upon the brand

¾

cup

butter

⅓

cup

sugar

8

oz

cream cheese

softened

½

cup

powdered sugar

14

oz

can sweetened condensed milk

1

teaspoon

vanilla extract

1

cup

whipping cream

1

quart

strawberries

32 oz
Instructions
Place graham crackers in a ziplock bag and crush with a rolling pin – or -- use a food processor to turn into crumbs. Place crumbs in a medium mixing bowl.

Melt the butter and add to the crumbs, along with sugar. Mix until crumbs are thoroughly coated.

Press about half the crumbs into a 9 x 13 pan. Save remaining crumbs for the topping.

Cut up enough strawberries to fill one cup, set aside. Mash or puree remaining strawberries (hulls removed) using a masher, blender, or food processor.

Beat whipping cream until it is somewhat firm. This will take about 4-5 minutes.

In a large bowl, beat the cream cheese until smooth. Add powdered sugar and beat until creamy.

Add sweetened condensed milk, vanilla and mashed/pureed strawberries. Mix well.

Add whipped cream and chopped strawberries and mix until fully incorporated.

Spread filling over the graham cracker crust. Top with remaining graham cracker crumbs.
Video
Notes
To serve, set the pan out at room temperature for about 20 minutes before cutting.
Nutrition
Calories:
292
kcal
|
Carbohydrates:
30
g
|
Protein:
4
g
|
Fat:
18
g
|
Saturated Fat:
11
g
|
Cholesterol:
54
mg
|
Sodium:
201
mg
|
Potassium:
192
mg
|
Fiber:
1
g
|
Sugar:
22
g
|
Vitamin A:
599
IU
|
Vitamin C:
28
mg
|
Calcium:
94
mg
|
Iron:
1
mg
Nutrition values are estimates only, using online calculators. Please verify using your own data.
Additional ideas/FAQ
Can I make this dessert as a frozen strawberry pie?

This dessert will make a great pie! You probably only need a single crust, so make half of what is specified. If using a standard pie plate, halve the filling ingredients. Mix and fill per directions. If using a deep-dish pie plate, make the whole recipe for filling except decrease the cream cheese to 4 oz. This will make generously deep slices of creamy strawberry goodness.

The one big challenge with a pie plate is that it can be really tricky to remove individual frozen slices. I recommend lining the pie plate with parchment paper to facilitate removal. An even easier solution is to use a springform pan. Once frozen, this dessert really holds its shape so it can be easily and completely removed from the pan for cutting.
Can I use frozen strawberries to make this dessert?
Frozen berries work great for the mashed/pureed portion, for sure! If using frozen, I still prefer to buy some fresh strawberries for the chopped berries addition, just for the fresh taste alone. But if good fresh berries are not available, by all means use frozen.
How long can I keep this dessert in the freezer?
Once frozen, this dessert will be good for 1-2 weeks.
What is the purpose of setting the frozen dessert out for 20 minutes before serving?
This step is solely for the purpose of making the dessert easier to cut. As I described in my Patriotic Torte, once frozen the dessert becomes very solid. Due to this, I recommend that once the dessert is "done," set it out for 20 minutes or so and then cut the entire pan into squares. It makes subsequent servings so much easier.
Other No-Bake dessert ideas
If you enjoyed this frozen strawberry dessert, try a No-Bake Cheesecake. You will see that I topped mine with a simple strawberry sauce, so the flavors of strawberry and cream cheese are similar to this recipe.
Another frozen dessert from my mom's recipe box is S'mores Pie. I will never grow tired of that one!
If you crave the combination of tart and sweet, Lemonade Pie is also a winner!
For a sweet cake batter dip, try Dunkaroo Dip. And no dessert comes together faster than a 3 Ingredient Chocolate Mousse.
I'm "berry" excited for you to try these all!