If you want a delicious and nutritious breakfast, this easy Blackberry Chia Seed Pudding is the perfect answer.
Bursting with antioxidants, fiber, and omega-3 fatty acids, this breakfast will satisfy your sweet tooth but also provide a host of health benefits.
This delectable treat is such a great way to start the day. It'll leave you feeling energized and ready to conquer life!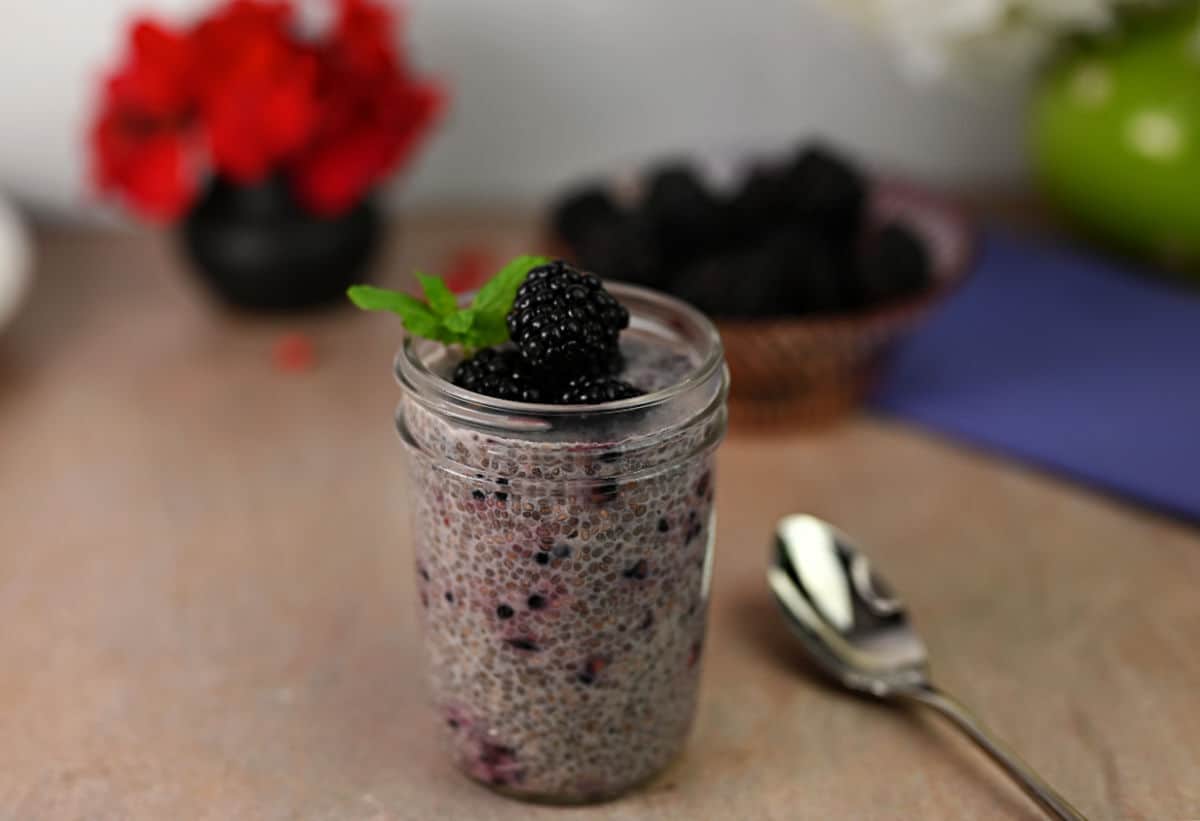 Why You Will Love This Blackberry Chia Pudding
What's not to love? Fresh blackberries combine with the goodness of Chia seeds to make a tasty and nutritious breakfast or snack.
Chia pudding is so easy to customize. You can make it more or less sweet according to your preference or mood. And you can use different fruits and flavors. (Dragon fruit chia pudding, anyone?)
Ingredients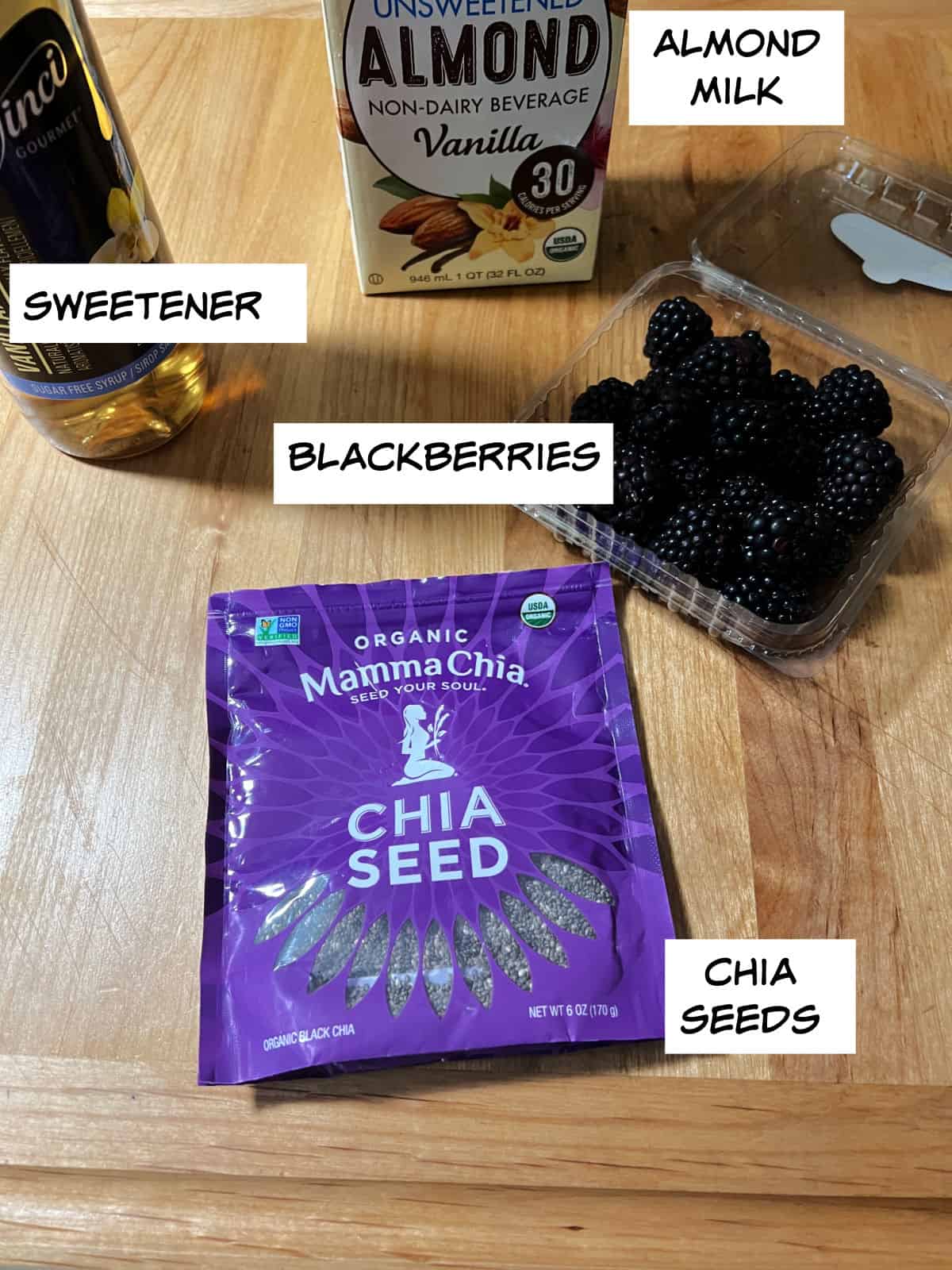 How to Make Blackberry Chia Seed Pudding
I make this as an individual serving, using a jelly jar with a lid.
First, add the almond milk to the jar. (My jar is conveniently marked so I know when I've added 4 ounces)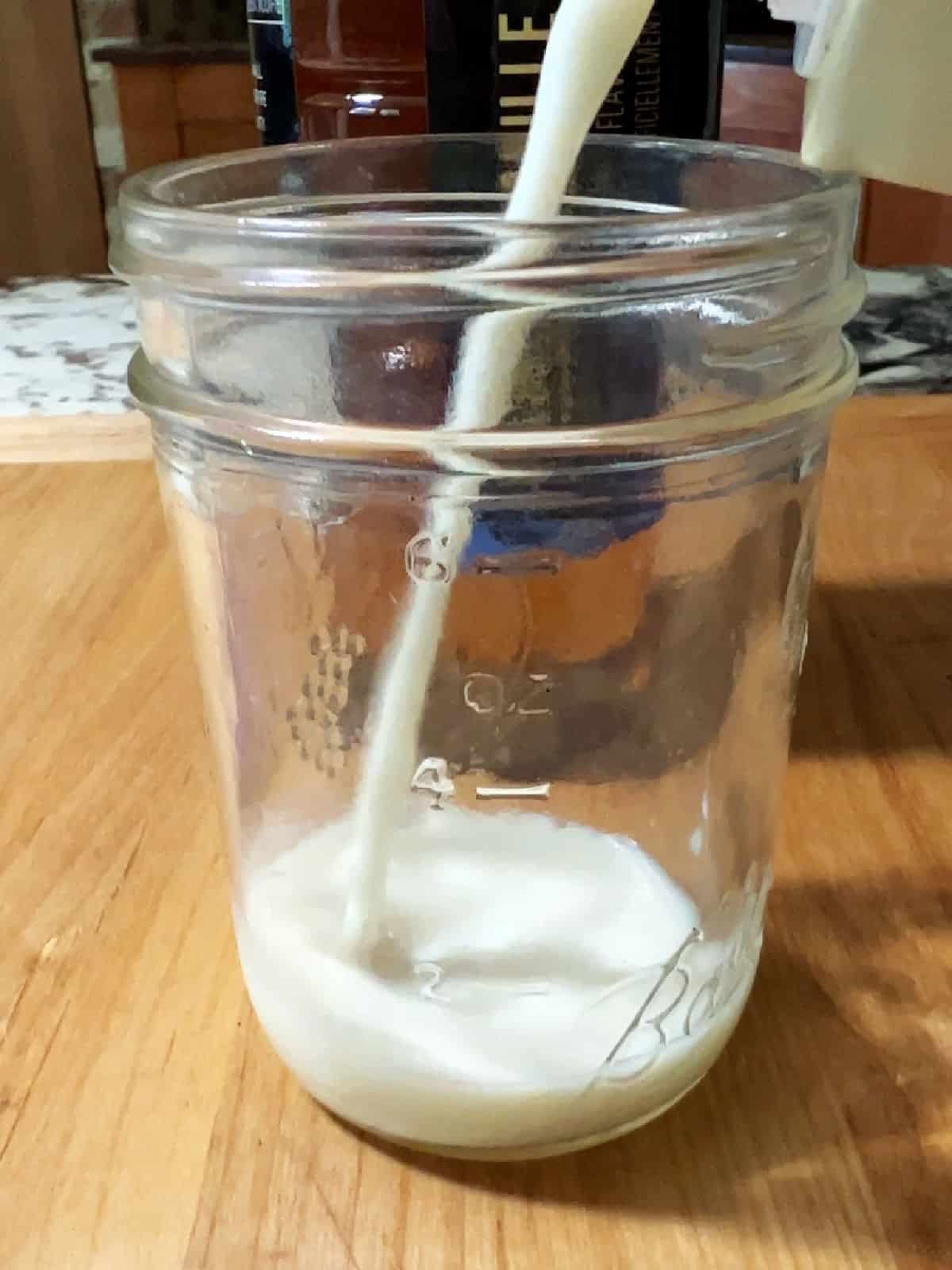 Add the chia seeds to the jar and give them a good stir. Also add sweetener, if using. I have found that I do prefer adding sweetener with blackberries, but mine is sugar free to keep the carbs low.
You'll want to leave the mixture for a couple minutes, so I use this time to mash the berries a little. When I started making this pudding I would try to squish the blackberries as I added them, but I soon realized that it's more efficient to do it separately.
Just place the berries in a small bowl (reserve a couple for garnish, if desired) and then mash them lightly with a fork. This helps to distribute the blackberry taste more evenly throughout the pudding.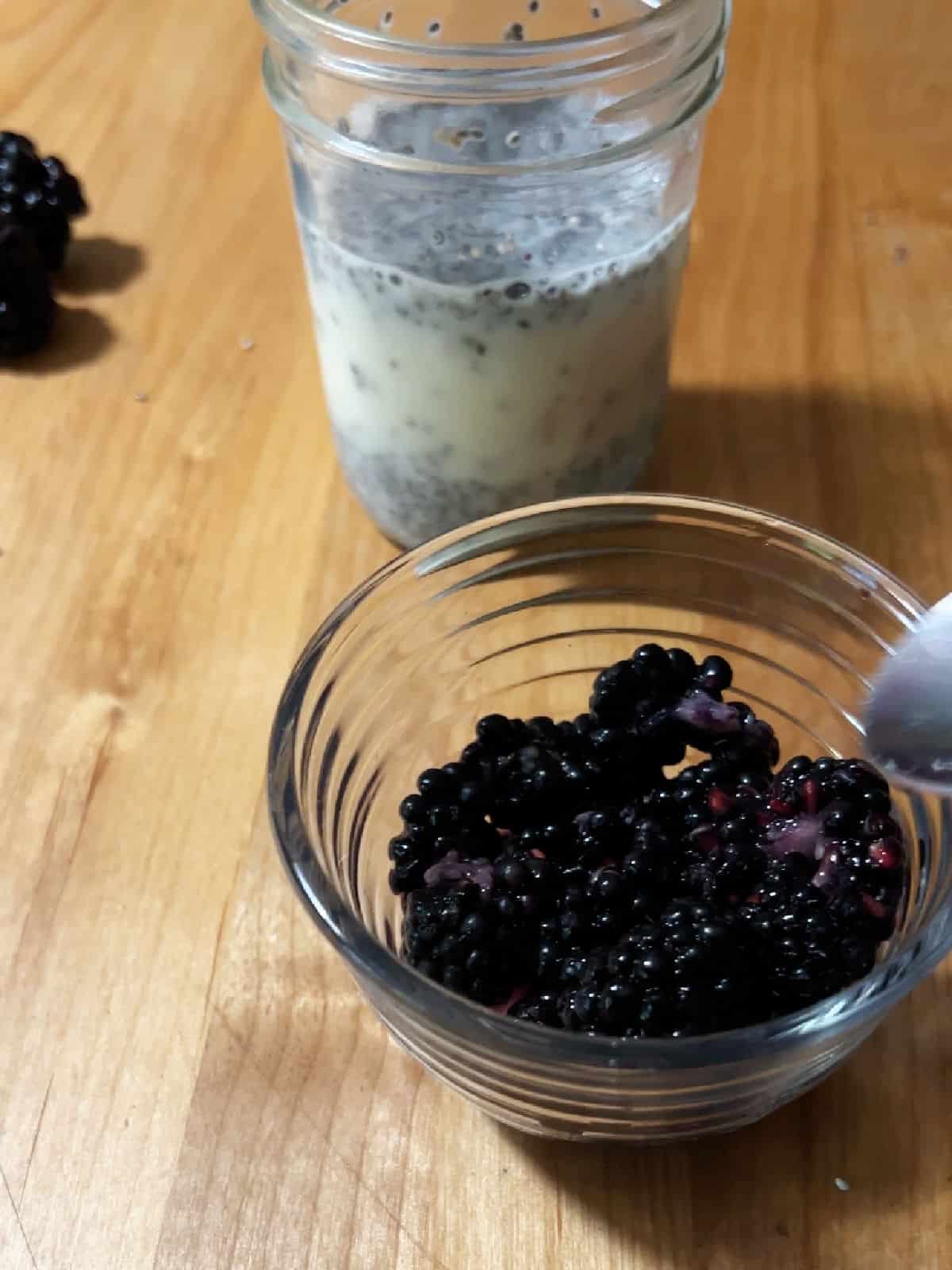 Stir Again
As you can see in the photo above, when the pudding mixture sits for a couple minutes, the chia seeds will start to clump at the bottom of the container. You always want to wait for this to happen, then stir again before placing the pudding in the fridge.
Add the blackberries and stir the pudding. With this action you are bringing all the clumped seeds up from the bottom, and ensuring the seeds and blackberries are evenly distributed in the liquid.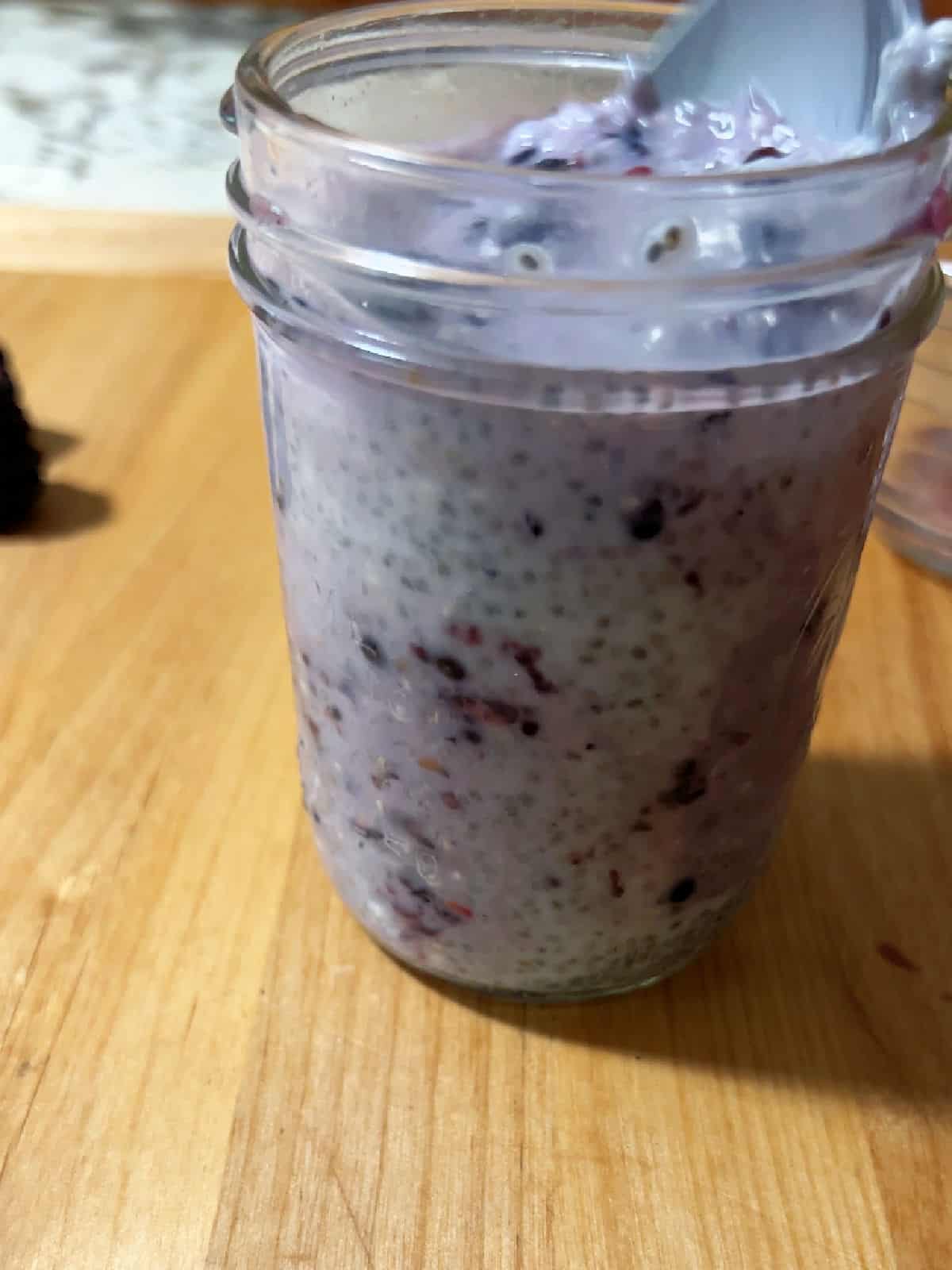 Cover the jar with a lid and place it in the fridge. Let the pudding rest for at least an hour, to give the chia seeds time to absorb the moisture and create the pudding-like consistency we want.
After an hour, your pudding is ready to enjoy! Give it a good stir and enjoy the thick texture and burst of fresh berry flavor.
Whether you choose to savor it for breakfast, as a snack, or as a healthy dessert, this creamy and nutrient-rich treat will leave you satisfied.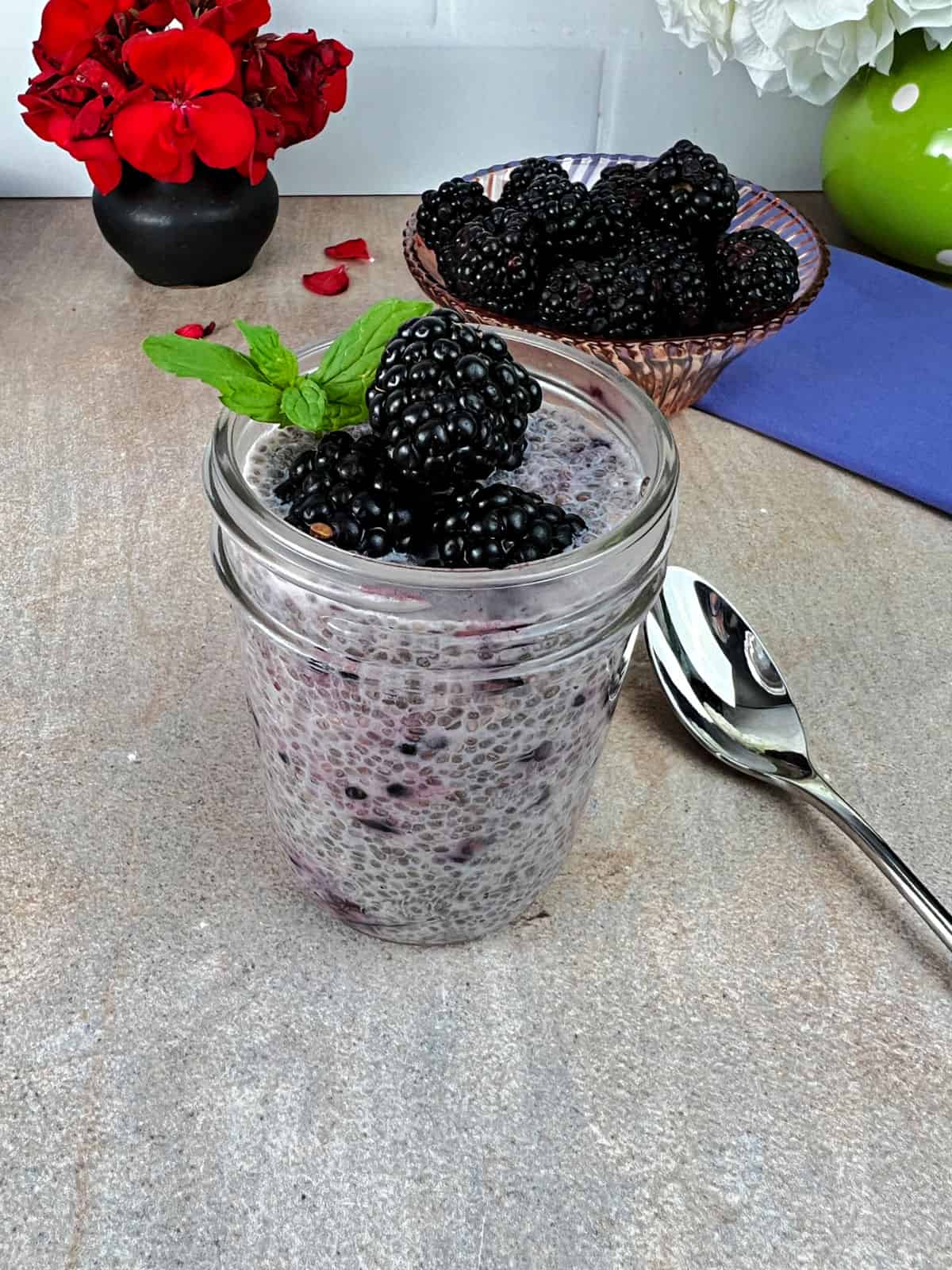 Substitutions and Variations
Use any type of berries you have on hand, such as raspberries, blueberries, or strawberries, in place of blackberries.
Swap almond milk for coconut milk, soy milk, or regular dairy milk if you prefer.
Experiment with different sweeteners like honey, agave syrup, or stevia.
For a thicker pudding, add an extra tablespoon of chia seeds.
In my pictures, you see I'm using a sprig of mint to garnish the pudding. One day I decided to chop up that mint and stir it in - it added a fresh burst of mint flavor, which I found quite delightful!
Storage
You can store the Blackberry Chia Seed Pudding in an airtight container in the refrigerator for up to 3 days. This makes it a perfect meal prep option for busy mornings or a convenient grab-and-go snack. Just make individual portions in separate jars and refrigerate until you need one!
Expert Tips
If you prefer a smoother consistency, you can blend the chia pudding mixture after it has set to break down the chia seeds further.
Adjust the sweetness of the pudding to your liking by adding more or less of your preferred sweetener. Taste the mixture before refrigerating and adjust as needed.
For a creamier pudding, you can use full-fat coconut milk instead of almond milk. This option adds a rich and velvety texture to the final result.
More Easy Breakfast Ideas
📖 Recipe
Blackberry Chia Seed Pudding
Start your day right with Blackberry Chia Seed Pudding. Creamy, delicious, and loaded with health benefits. It will keep you energized!
Ingredients
4

ounces

almond milk

2

tablespoons

Chia seeds

2

teaspoons

sweetener

optional (I use sugar free vanilla syrup)

3

ounces

blackberries

fresh (about 10)
Instructions
In a small jar or bowl, add the almond milk, chia seeds, and sweetener if using. Stir to moisten the chia seeds well. Set aside for 2 to 3 minutes.

In a separate small container, mash the blackberries slightly. If you'd rather, you can wait and mash as you add them to the chia mixture. (reserve a couple for garnish, if desired)

If using a glass jar, you'll see that the chia seeds have settled on the bottom after a couple minutes. Stir the mixture to break up the clumps of chia seeds and distribute them evenly throughout the liquid.

Add the blackberries to the chia mixture and stir to distribute. Add the reserved blackberries to the top.

Cover and refrigerate the mixture for 1-2 hours, or overnight.

When you are ready to eat, just give your chia pudding a stir. It will be thick and ready to eat.
Nutrition
Calories:
169
kcal
|
Carbohydrates:
29
g
|
Protein:
6
g
|
Fat:
9
g
|
Saturated Fat:
1
g
|
Polyunsaturated Fat:
7
g
|
Monounsaturated Fat:
1
g
|
Trans Fat:
0.03
g
|
Sodium:
152
mg
|
Potassium:
235
mg
|
Fiber:
13
g
|
Sugar:
4
g
|
Vitamin A:
195
IU
|
Vitamin C:
18
mg
|
Calcium:
312
mg
|
Iron:
2
mg
Nutrition values are estimates only, using online calculators. Please verify using your own data.