September is here, which traditionally means back to school. And somehow, that always seems to translate into the beginning of cold and flu season. I'm willing to bet that this will always be true, even when we try to maintain social distancing.
When my children were little, I swear they were just mobile Petri dishes, happy to share their germs with every other kid in their orbit. And all of those kids with their respective families, of course.
A nice cup of Medicine Ball tea is just what your body needs to feel better!
Jump to:
What is Medicine Ball tea?
Lucky for us all, an enterprising barista at Starbucks came up with a drink called the "Medicine Ball" which is intended to help us all fight the common cold. Several years ago, the company recognized the popularity of this "secret menu" drink and decide to put it on the menu, calling it Honey Citrus Mint Tea. Which is actually too many words to remember, IMO, they probably should have just stuck with "medicine ball" – or even "medicine bomb" - it's so much easier!
It's a combination of steamed lemonade and 2 types of herbal tea, with a little honey added in. It is delicious, and very easy to make at home!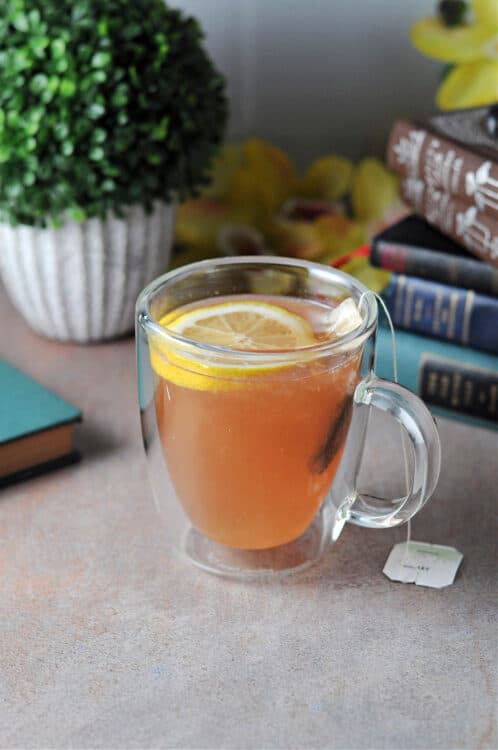 Starbucks Medicine Ball (Medicine Bomb) tea ingredients
Starbucks owns the Teavana brand of teas, so it should come as no surprise that this is the brand they use in their stores. I did the same, but also tried this drink with other types of tea, which I will describe below.
Here are the ingredients needed:
Peach Tea: Starbucks uses Teavana Peach Tranquility tea. Can I just say, I LOVE this tea! When I open the container, my nose is met by the fragrance of sweet peach, fruity apple and pineapple with lemon and chamomile. Making herbal tea from one of these tea bags is a true delight!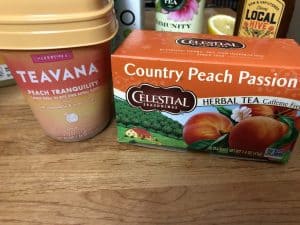 The peach flavor is one of the most dominant in the Starbucks Medicine Ball tea, so this is a pretty important ingredient. But I did try this using another brand: Celestial Seasonings Country Peach Passion tea.
This tea also works very well, and I consider it a completely acceptable alternative.
Some peach tea brands include a touch of cinnamon. Some just say "spice" in the ingredients. I do NOT recommend any of these to make this medicine bomb. The cinnamon just clashes with the other flavors in the drink.
Green Tea: Starbucks use Teavana Jade Citrus Mint tea. As green teas go, this one is quite interesting. It is flavored with spearmint, lemon verbena and lemongrass. The taste of mint is just a hint, but definitely there. So, when I looked for an alternative, I tried to find one with the same flavors.
I found it in Tazo Tea Zen, which is described as "green tea, bright lemongrass & crisp spearmint." It's such a close match I almost wonder who did it first. But I took this ingredient one step further. Because I was really trying to locate the mint flavor in the final medicine ball drink, and had trouble tasting it. I decided to try with a different green tea, which did not have any mint flavor included.
I have lots of teas from The Republic of Tea, and their Immunity tea seemed like a good choice. Since we are trying to ward off illness and such. 😀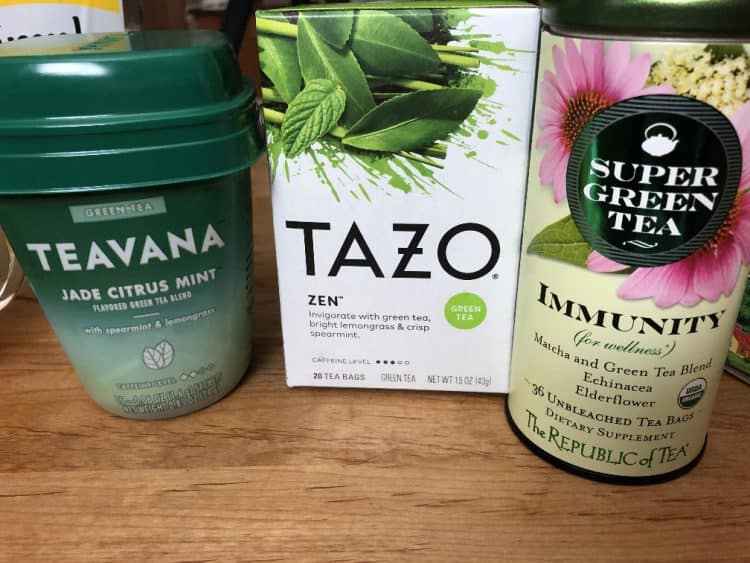 To my surprise, I found the final drink just as good. I didn't miss the mint at all! So I think the more important tea is the peach, and that most any green tea will work for your copycat medicine ball drink.
Lemonade: I don't know what Starbucks uses for lemonade, so I decided to use one of the more available grocery store brands: Simply Lemonade. It's a sweet and delicious lemonade that works great in this drink. What's unusual is that you do warm it up, probably so you don't cool down the tea too much. As much as it might seem a little weird to make hot lemonade, the end result is worth it.
Pretty much any standard lemonade is a sugar bomb, so I also tried the light version of Simply Lemonade. I did miss the extra sugar a little. But I still enjoyed the drinks made with this lemonade. I haven't tried it yet with sugar free lemonade, but it's even easier to just add some hot water and a squeeze of lemon for a completely sugar free version.
Honey: the final ingredient is honey, and Starbucks uses 2 of their honey packets. I used one tablespoon of honey, which was very good. Then, in the interest of reducing the sugar load, I tried this without the honey. And I still love the drink!
I personally think this copycat drink does not need any honey, with one exception: if you actually have a cold. I recently had a summer cold which resulted in a scratchy throat and I can tell you, the honey does make a difference then. And let's face it: if you're feeling under the weather, a few extra calories of sugar are well worth it if they make you feel better.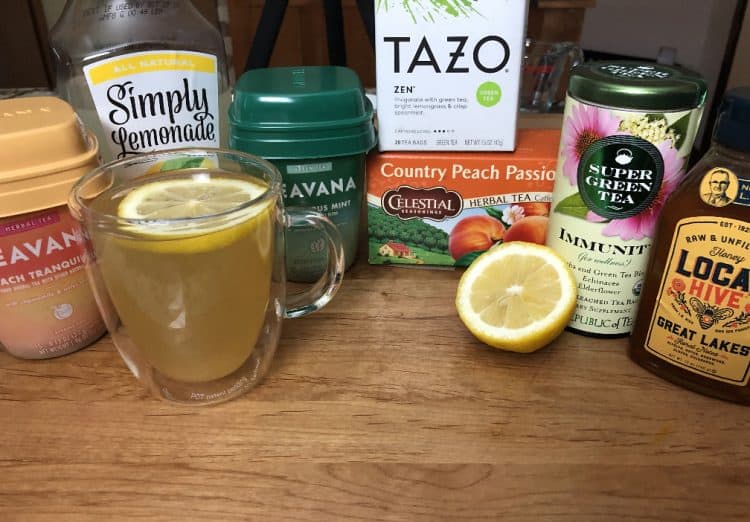 How does this copycat tea compare to the Starbucks version
Whenever you make a copycat, you have to be prepared for slight differences. But every once in a while, the copycat is better. And this is one of those times!
Having ordered the Starbucks Medicine Ball -er- Honey Citrus Mint tea several times, I would describe the taste as somewhat medicine-y, almost metallic. I'm going to guess it's due to whatever lemonade they use. It's probably less noticeable when you have a cold.
The copycat? I love it! Its fresh and delicious and thoroughly enjoyable. I drink it just because I love it. I have also tried it without lemonade and poured over ice to make an iced herbal tea – loved that too! If you include the lemonade and serve it cold, it's basically an herbal tea version of an Arnold Palmer, a very popular mix of iced tea and lemonade.
I really think you can't go wrong with this drink!
Does the Medicine Ball or Medicine Bomb actually help fight a cold?
In theory, by including citrus and the healing properties of green tea, you could make a case for this. I have to admit, I don't think there's enough to really make a difference, vitamin and mineral-wise. But this is certainly consistent with one of the oldest remedies out there: hot tea with lemon.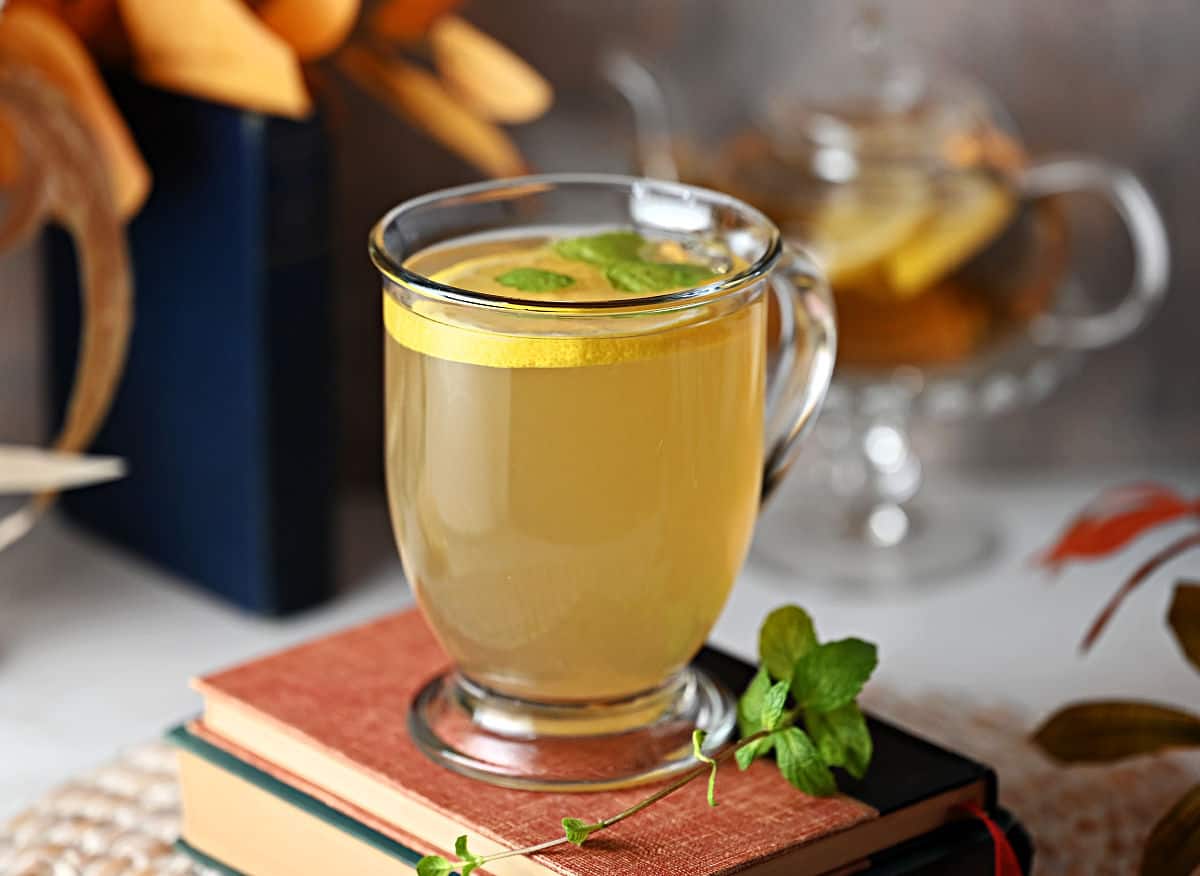 Most types of tea contain antioxidants, which have an anti-inflammatory effect that reduces pain and discomfort. Drinking tea helps improve hydration, and drinking warm liquids definitely helps to soothe a sore throat.
Honey has traditionally been added to sweeten the taste of tea, but it is now thought to help in other ways as well. Honey contains both antimicrobial and anti-inflammatory compounds. A recent review on the effects on children aged 2-5 years concluded that honey could be as effective or more effective than cold medications such as dextromethorphan and diphenhydramine. (Medical News Today)
How to make Starbucks Medicine Ball tea
Did you realize that different teas vary in their recommendations for brewing time and temperature? The peach tea recommended temperature is 205F, which is just barely below the boiling point. This tea should steep for 5 minutes. Green tea (both Tazo and Teavana) calls for 175F for 2-3 minutes.
How do we deal with this? Here is what I do. Get your cup of water to the boiling point (I microwave for 2 minutes or so. Place the peach tea bag into the water and let it steep for about 2½ to 3 minutes. Then add the green tea. The water has cooled off some by this point. Steep an additional 2 to 3 minutes, then remove the tea bags.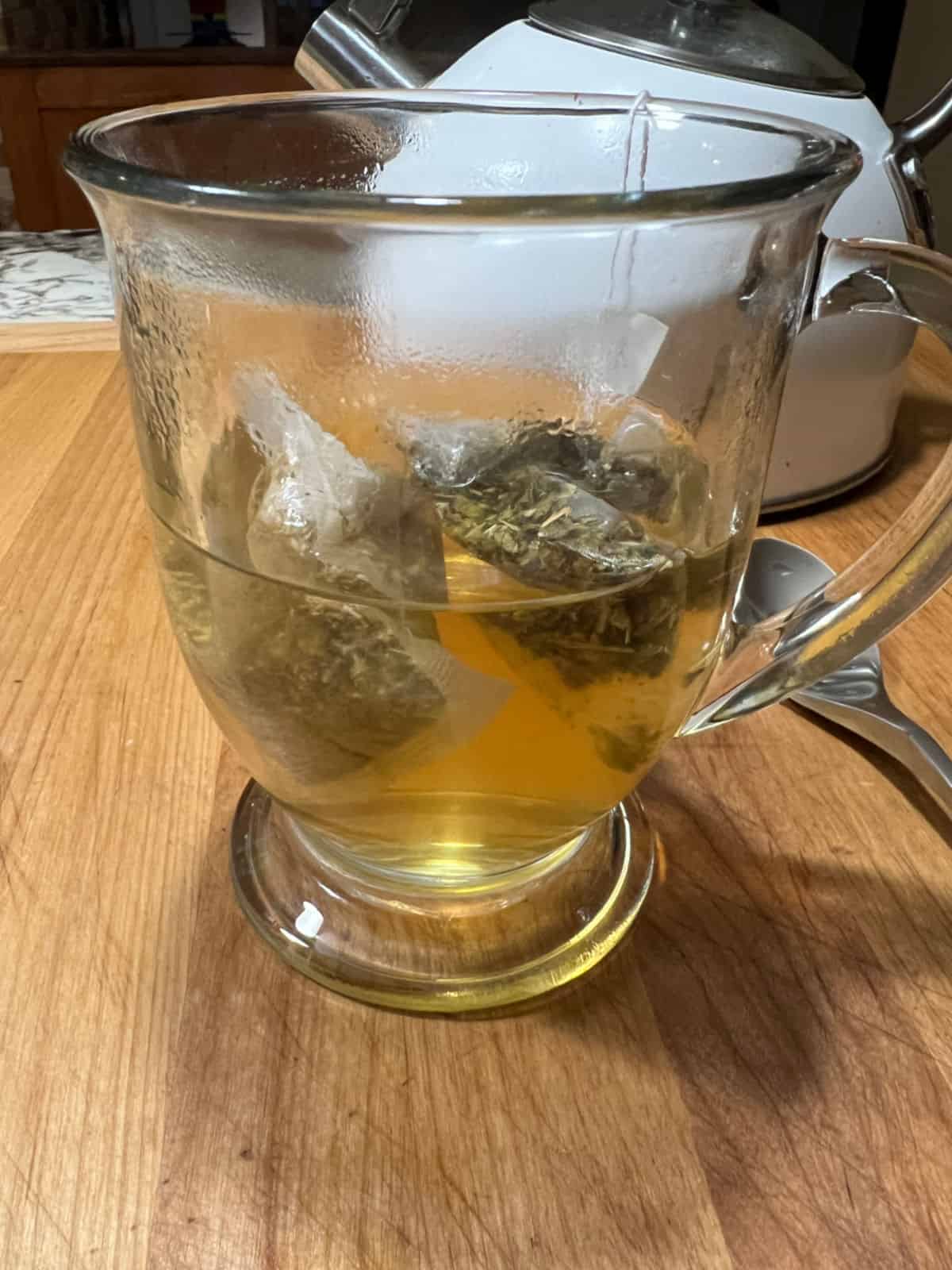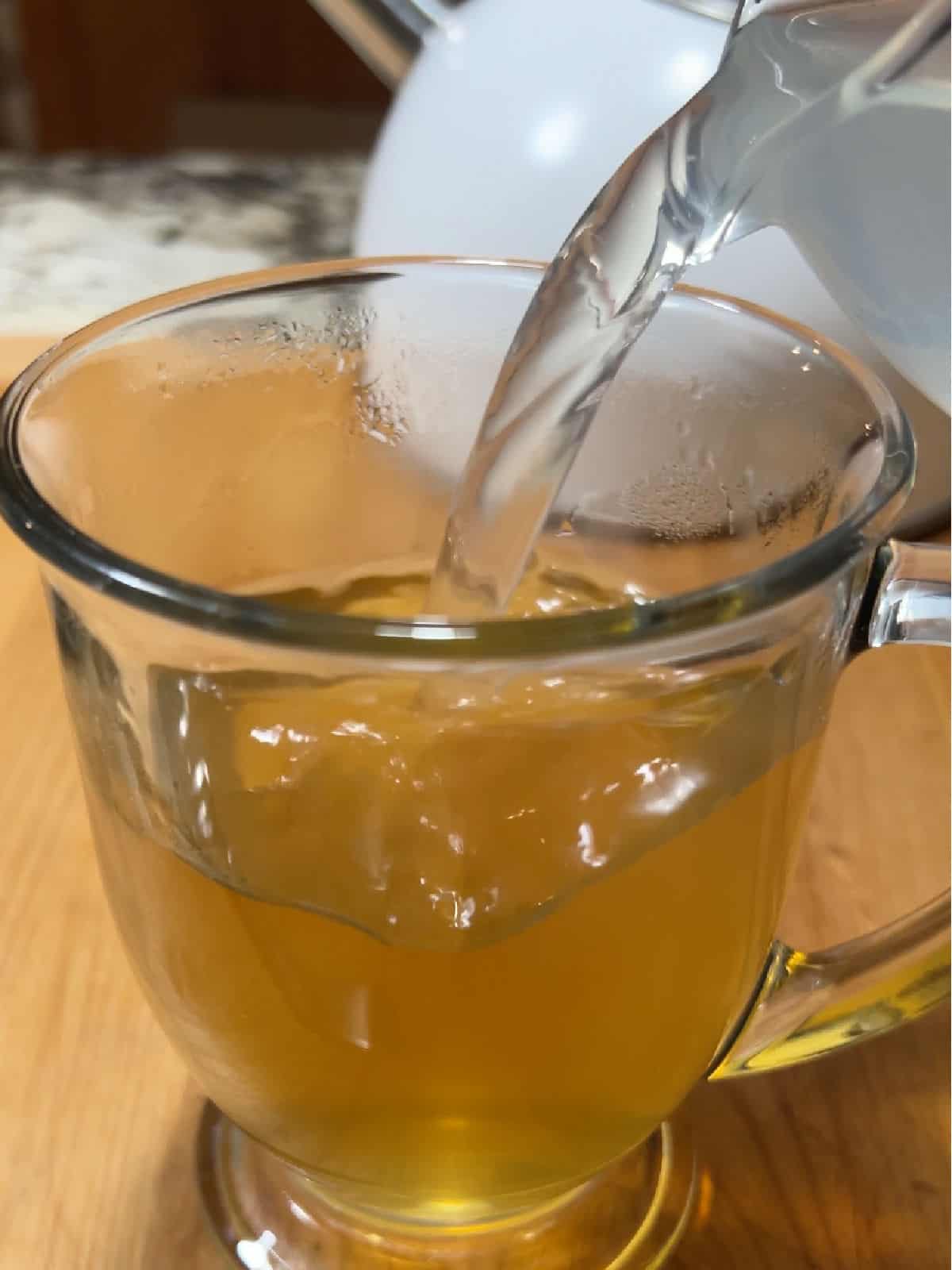 Warm up the lemonade – I do a one-minute burst in the microwave – and mix the liquids together. Add a little honey if desired. This results in a 16 ounce drink – the size of a Grande at Starbucks.
Give this Medicine Ball tea a try – and have the ingredients on hand for whenever a cold hits!
📖 Recipe
Starbucks Medicine Ball Tea (Copycat)
aka Medicine Bomb - this tea will warm you and soothe your sore throat!
Ingredients
8

oz

water

heated to boiling

8

oz

lemonade

1

peach tea bag

Teavana Peach Tranquility or similar

1

green tea bag

Teavana Citrus Jade Mint or similar

1

Tablespoon

honey

optional
Instructions
In a large cup, pour almost boiling water over peach tea bag and allow to steep for 2 ½ to 3 minutes.

Add green tea bag and continue steeping for 2 to 3 additional minutes. Remove tea bags.

Heat lemonade for one minute in microwave, then add to tea and mix.

Add honey, if desired.
Video
Nutrition
Calories:
179
kcal
|
Carbohydrates:
46
g
|
Protein:
1
g
|
Sodium:
27
mg
|
Sugar:
44
g
Nutrition values are estimates only, using online calculators. Please verify using your own data.
More ideas for cold season
If you're feeling under the weather, nothing warms like a nice bowl of soup. Here are a few to try: